Specification
GENERAL
Brand: 1MORE
Features: Extra Bass,Surround Sound
Function: Answering Phone,Microphone,MP3 player,Song Switching,Volume Control
Material: ABS,Metal
Model: E1017
Type: In-Ear
Wearing type: In-Ear
PRODUCT DETAILS
Application: Running,Sport,Working
Cable Length (m): 1.25m
Compatible with: Computer,iPhone,iPod,Mobile phone,MP3,PC,Portable Media Player
Connecting interface: 3.5mm
Connectivity: Wired
Frequency response: 20 – 40KHz
Driver type: Dynamic
Impedance: 32ohms
Plug Type: L-Bend
Sensitivity: 98dB
Sound channel: Two-channel (stereo)
DIMENSION AND WEIGHT
Package size (L x W x H): 12.00 x 8.70 x 4.00 cm / 4.72 x 3.43 x 1.57 inches
Package weight: 0.2900 kg
Product size (L x W x H): 125.00 x 3.00 x 2.00 cm / 49.21 x 1.18 x 0.79 inches
Product weight: 0.0150 kg
PACKAGE CONTENTS
Package Contents: 1 x Pair of Earphones, 1 x Cable Winder, 1 x Cable Clip,
1 x Storage Bag, 3 x Pair of Eartips, 1 x English User Manual
1MORE E1017 Specification
Type: In-Ear
Weight: 15 g
Length: 1.25 m
Plug: 3.5 mm
Impedance: 32 Ω
Sensitivity: 98 dB
In-line Control Box & Microphone: Included
1MORE E1017 Dual Driver Earphones
Superior sound using two drivers
A balanced armature and a separate graphene driver deliver a powerful yet intimate listening experience. Our balanced armature (mini-tweeter) produces clear highs and is uniquely inset with a durable silicone cover for lasting performance and clarity. Our graphene driver (mini-speaker) greatly increases midrange definition and deep bass.
Well balance among mids, highs and bass
Female vocalists sound great
Clear and warm human voice with minimized dental sound
Suitable for pop songs, string music and absolute music
Hi-Res audio with the purity of music
Pure and balanced audio
Sonic Balance

Unlike the harsh bass or treble boosting prevalent with other brands, our headphones produce an evenly balanced frequency response to deliver a precise representation of the artist's intended sound. The angled ergonomic fit with multiple ear tip options ensure comfort, noise isolation, and deep bass.

Hi-Res Certified

Hi-Res certified, our Dual Drivers have an extended frequency range of 40,000 Hz. The music industry is transitioning towards Hi-Res audio and our Dual Drivers are suited perfectly for this trend.

Stay In Control

All functions are at your fingertips with the in-line control box, housing a mic, volume controls, tracks circling and playback functionality. Seamless switches with fast and precision react.
Comfortable and durable housing
Lightweight Yet Durable

A comfort-length, Kevlar fiber wrapped and TPE braided cable keeps it tangle-free for compact portability, plus an improved 3.5 mm L plug for better durability and security.

Cutting Edge Design

A perfected ergonomic fit and lightweight aluminum alloy body provide enhanced comfort and durability while still having an aesthetic appeal. An improved "L" shaped 3.5 mm plug adds extra security.

Expertly Tuned

Masterfully tuned by Luca Bignardi – Grammys recording director, these earphones deliver enhanced tonality across a broad range of music genre, warmly and emotionally.
| | | | | |
| --- | --- | --- | --- | --- |
| | CLICK HERE | CLICK HERE | CLICK HERE | CLICK HERE |
| DRIVERS | 3 | 4 | 2 | 3 |
| FREQUENCY | 20-40,000 Hz | 20-40,000 Hz | 20-40,000 Hz | 20-40,000 Hz |
| CABLE | 3.5 mm tangle-free cable with Kevlar fiber | 3.5 mm tangle-free cable with Kevlar fiber, L plug | 3.5 mm tangle-free cable with Kevlar fiber, L plug | Oxygen-free copper cable, detachable and tangle-free |
| COMFORT | Super comfort with 8 sets of ear tips; 18 g | Super comfort with 8 sets of ear tips; 18.5 g | Great comfort with 3 sets of ear tips; 15 g | Super comfort with protein leather headband and ear pads; 293 g |
| SUITABLE MUSIC GENRE | Pop music, folk song, jazz, orchestral music | Pop music, classical music, symphony, jazz, rock | Pop music, string music, absolute music | Pop music, jazz, rock, EDM |
| SUITABLE OCCASIONS | Travel by car, train, airplane; listen at home, office, street | Travel by car, train, airplane; listen at home, office, street | Listen at home, office, street, subway, coffee bar | Game, listen, record at home or studio |
| SUITABLE LISTENER | Music fancier or audiophile | Music fancier, audiophile, demanded musician | Basically anyone | DJ, recording director, musician, audiophile |
| SOUND SIGNATURE | Full range sound with well balance | Hi-Fi sound with large soundstage | Detailed sound with enhanced highs and mids | Hi-Fi sound with rich bass |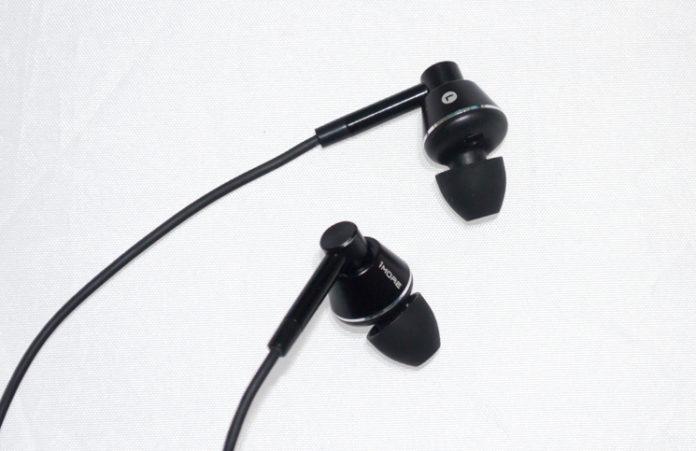 [UPDATED] For most westerners, 1More is not a familiar manufacturer but they're fairly well established in Asia. That's something 1More are hoping to build on as they push their range of audio devices through Europe and the US and with a wide range of earphones and headsets already established 1More have a bit of a step-up compared to new players in these regions. We have got our hands on one of their mid-range earphone sets, the E1017 Dual Driver In-Ear Headset which, as you might expect from the name, contains not just a dynamic driver but also an additional balanced armature driver among a host of other features. So let's dig in and see how they compare to more established brands in an already crowded marketplace.
We shall start in time-honoured tradition with a look at the specifications to see exactly what we're getting and then take a look at the product itself.
Specifications
NAME: Dual Driver
MODEL: E1017
COLOUR: Black
EAN: 6933037251357
TYPE: In-Ear
PLUG: 3.5 mm
SENSITIVITY: 98 dB
FREQUENCY RANGE: 20~40,000 Hz
IMPEDANCE: 32 Ω
CABLE MATERIAL: Enamelled Copper Wire
CABLE LENGTH: 1.25 m
IN-LINE CONTROL: Included w/ Mic
WEIGHT: 15 g
RATED POWER: 5 mW
Closer Look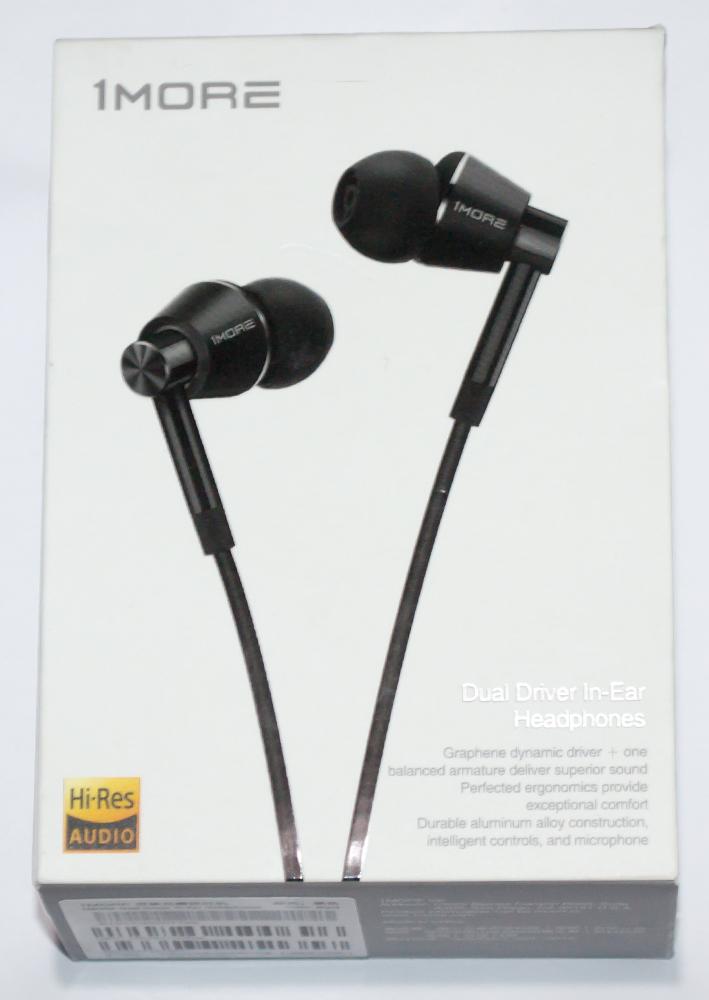 1More present the E1017 headset rather nicely, the front of the outer sleeve is not crammed with information but simply shows a nice image of the earbuds along with some branding and the product name. A small Hi-Res Audio logo draws your attention to these being of better audio quality than standard headsets and a simple statement repeated in a couple of languages explains what you are looking at.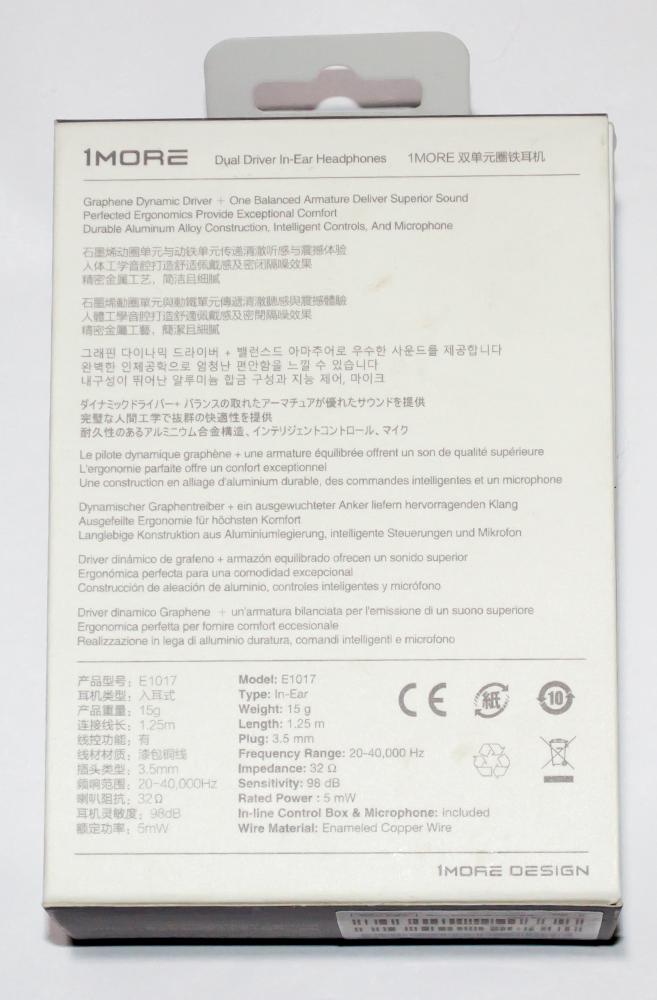 Around the back of the outer sleeve, things are not quite as clean and clear. The use of grey text that fills the panel with a total of nine languages makes finding the right text and reading it harder than it needs to be. The bottom of the panel, again in grey text, give the specifications of the headset, this time in Chinese and English. Rounding off the back panel we have some regulatory logos for compliance.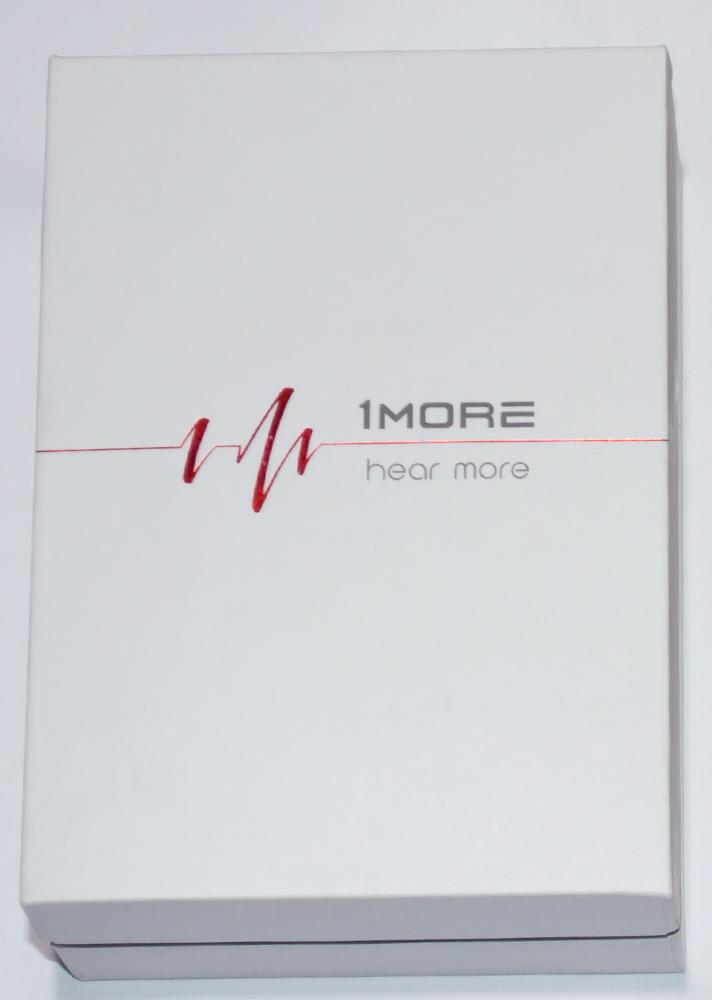 Slipping off the outer cover and we have a clean white box with a simple graphics and a slogan that it quite appealing.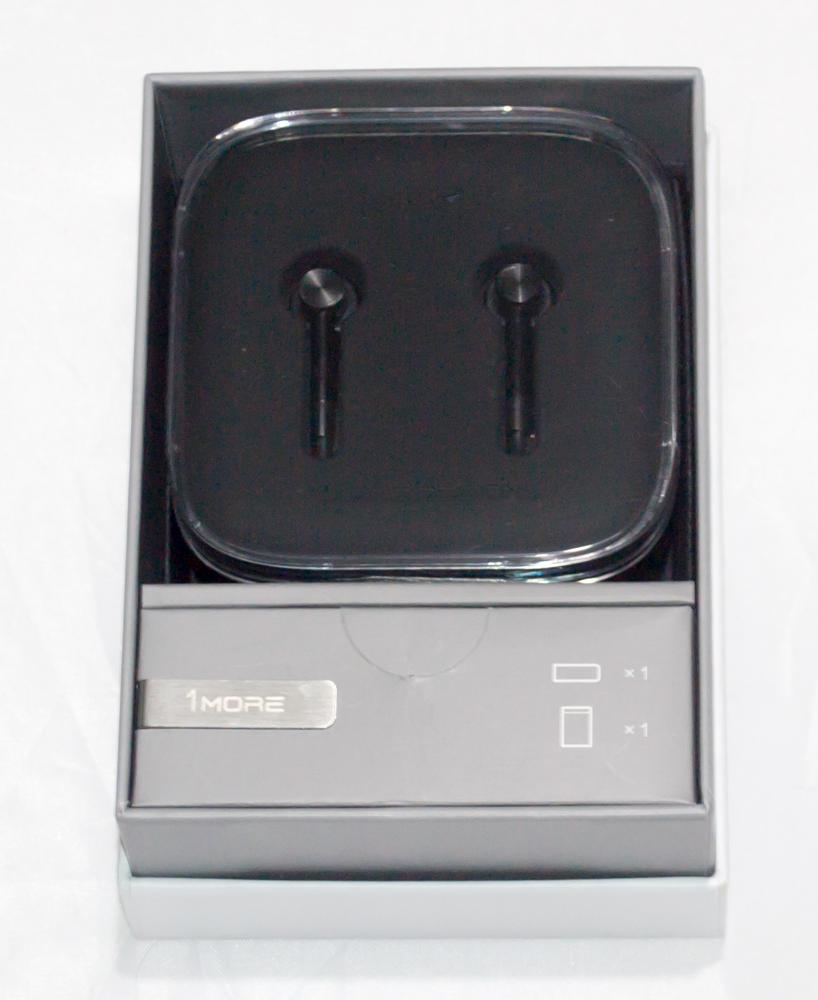 Once we reach the product itself we are greeted by the headset in its own plastic clamshell box and a further cardboard box with the shirt clip attached and, according to the graphic, there is a carry pouch inside.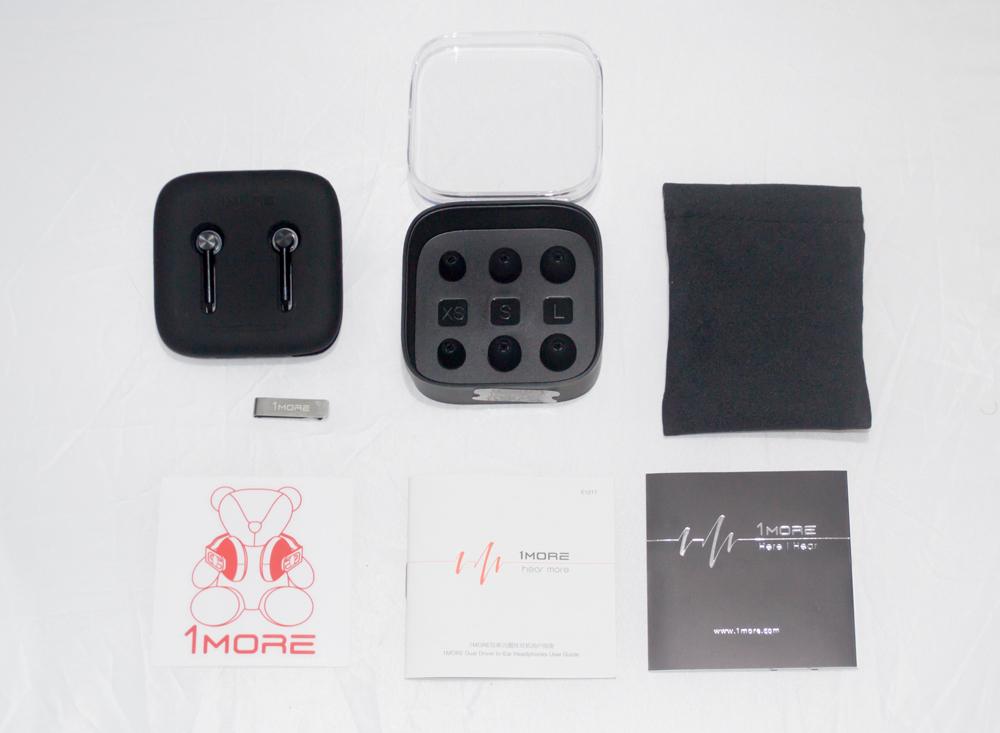 Laying out all the contents we can see a very nice selection of items to consider. The headset itself is contained in a silicon unit that fits inside the plastic clamshell, with that removed we can see three pairs of earbud tips that range in size. Also included is that carry pouch which has a magnetic opening to ensure that the headset is easy to get to but won't fall out when stored. There's a bunch of paraphernalia also included, the information guide is multilingual, there is a small introduction to the other products that 1More make and rounding things off is a vinyl sticker.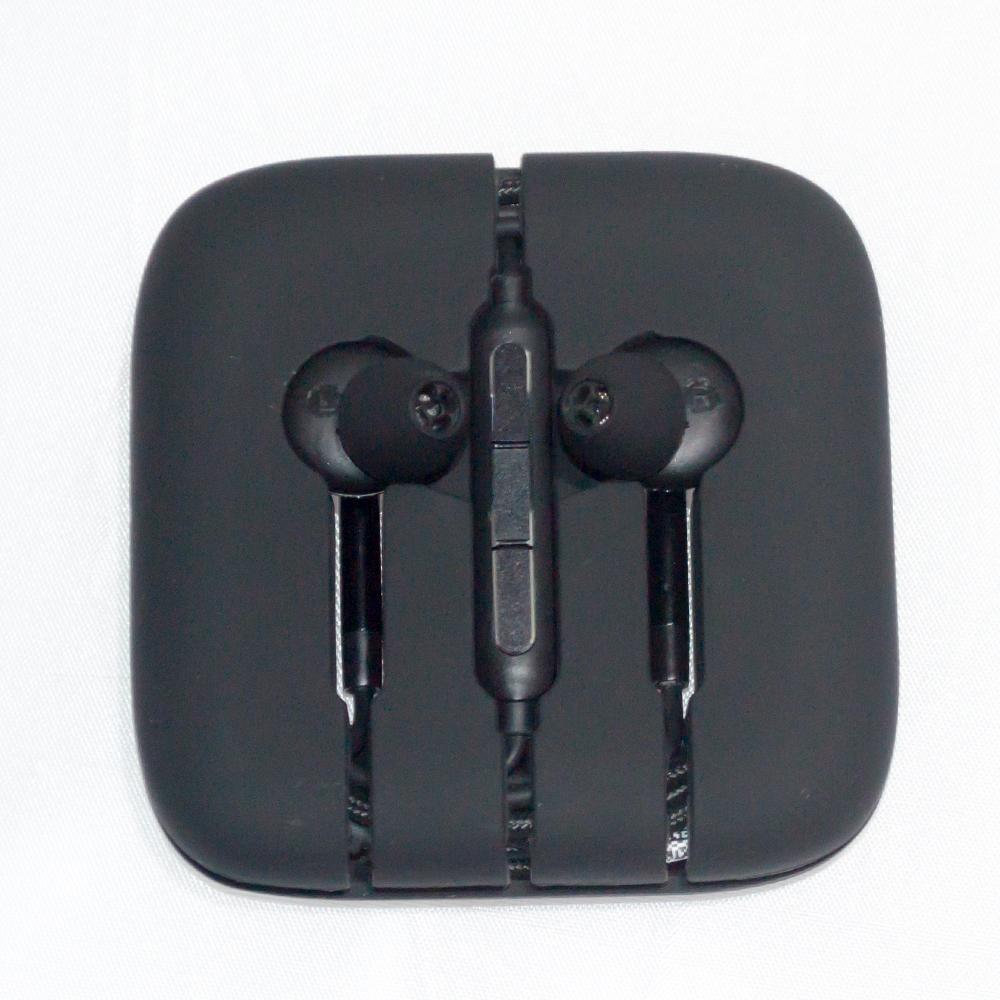 The silicon unit that houses the headset is rather unusual in itself. You get to clearly see the earbuds from the front and back as well as the buttons of the control unit before you unpack it and the cabling is wound around the outside with the jack neatly tucked away. I think this would perhaps be a better travel solution than using the included pouch although you sacrifice keeping the tips clean for the convenience of not having any tangles in the cable.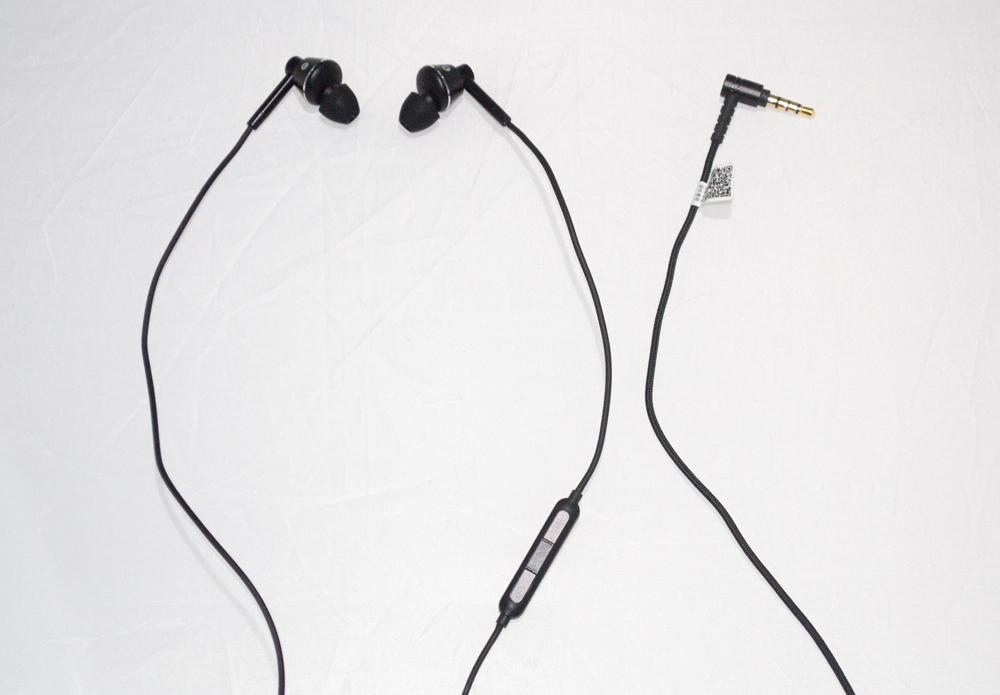 Finally released from all that packaging though we can get a proper look at the headset. The first thing I noticed as I was unwinding the cable was how remarkably thin it is. The cable has been coated in enamel to give it better resistance to wear and tear and that meant that the wire itself doesn't need to be so thick. There is also a very nice braid made with Kevlar on the cable – well, on most of the cable – that should also go a long way to making sure that this product lasts and lasts. From the y-section up to the earbuds though we lose that braid and instead have a rubberised coating. The control box sits on the left-hand cable.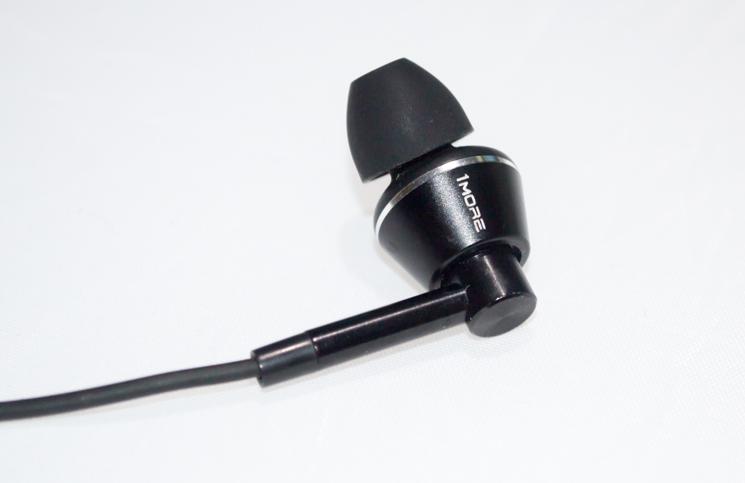 Looking at the business end of the headset we can see a somewhat large body to the earbud which is made from an aluminium alloy. This further helps toward weight-saving, and with that thin cable, the whole unit come in at just 15 grams. The dynamic driver which has a graphene diaphragm is housed in the body of the earbud.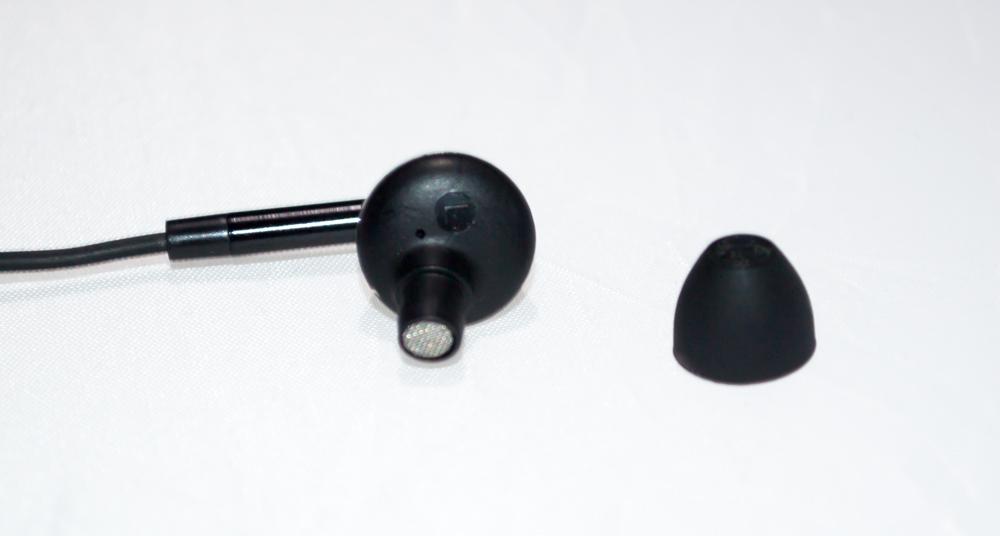 The earbud's tip is slightly angled backwards to match the natural shape of the ear canal which provides a more secure and comfortable fit which means you can wear them for longer without irritation and also helps block out background noise. The second driver, a balanced armature driver that acts as a tweeter is squeezed into the ear tip stalk. there are four pairs of silicone tips included to help you get the best fit possible and I can't emphasise enough the comfort and performance benefits of just taking a couple of minutes to find the right fit for you.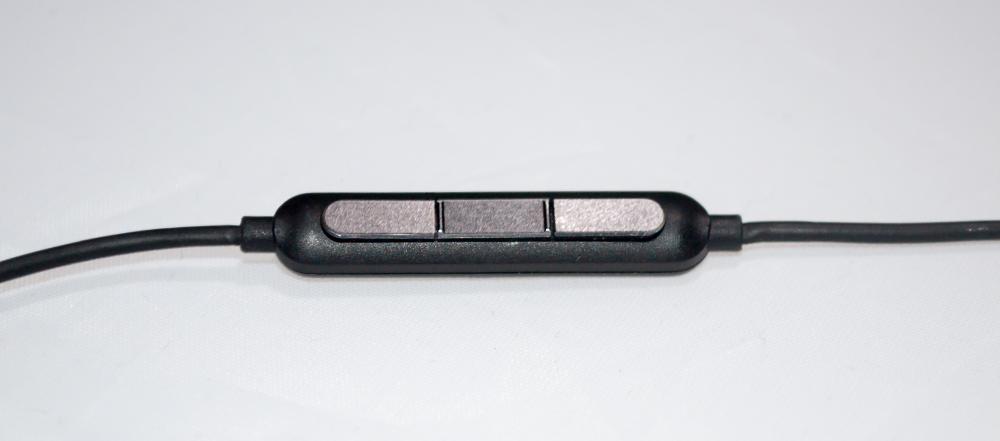 The control box for the Dual Driver In-Ear Headset is located halfway down the left cable forming the top of the Y. It allows mobile users to adjust volume (not available on iOS) as well as call answering, track selection, play and pause.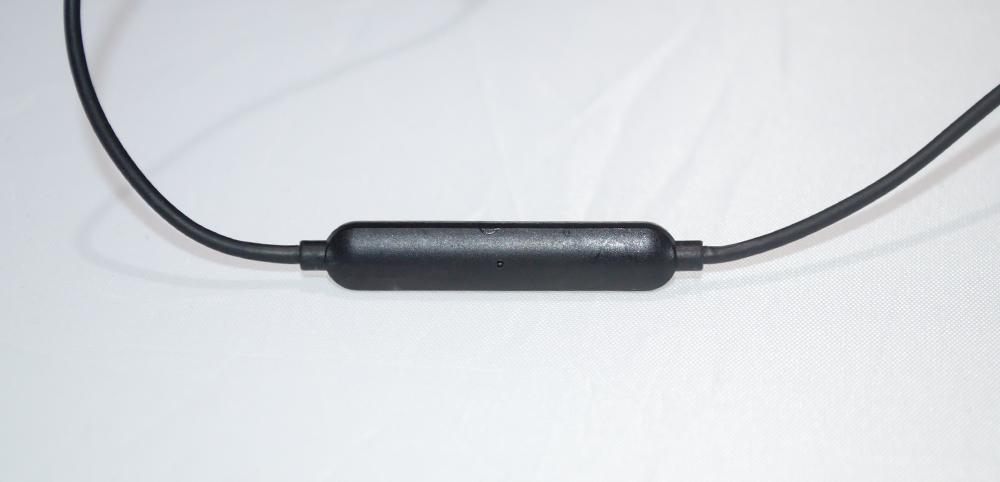 For input, the headset features a microphone on the rear of the control box.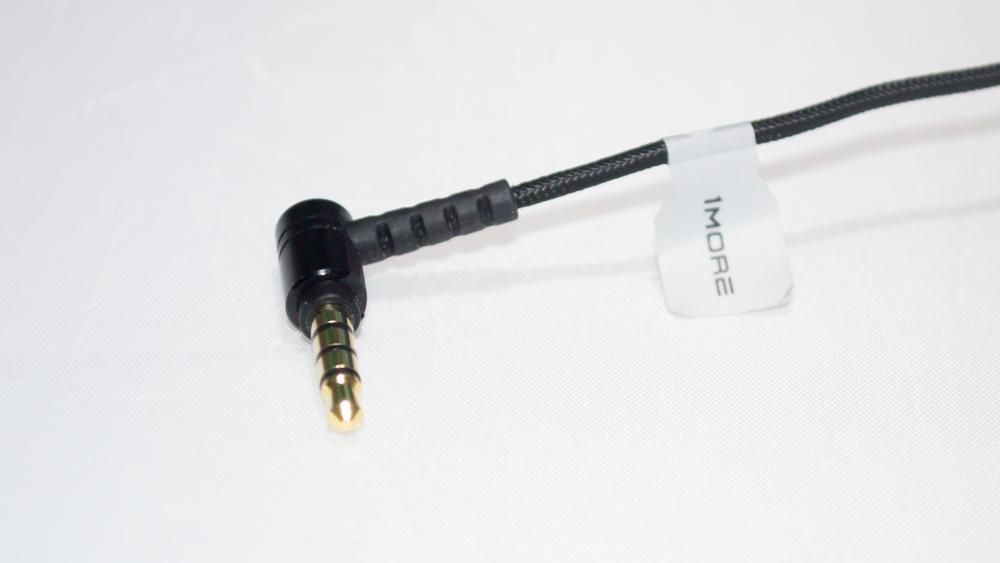 Moving on to the other end of the headset and the beautifully braided cable terminates with a right-angled 3.5mm 4-pole jack with gold plated contacts. Comparing the jack to the cable highlights just how thin the wiring is on this unit.
1More Dual Driver In-Ear Headphones Performance
Unboxing the E1017 headset was pleasant enough, it's obvious that a lot of thought has gone into the design to give consumers a little more than the product they are buying. It was immediately apparent that the thin cable used was indeed very thin, Even though it's braided it comes in at just 1.5mm diameter. This goes a long way toward saving weight however I was concerned about longevity and the tendency for wires to snap inside the cable causing deterioration of the sound quality and eventually the death of the headset. A bit more research on the enamelled cables put those fears to rest as the wires should be at least as strong as the usual thicker wires found on headsets.
It's rare for someone to actually be able to tell the difference between high-end audio output but at the more consumer-friendly end of things, the quality of the audio produced becomes a little more obvious – even to me. It is also important to also note that the sound produced by the headset is reliant on the device used to produce the sound – so a song played through a mobile phone for example may sound different to that played through a PC, especially if you have a powerful DAC attached. This headset does not come with a PC converter, so it's obvious that the target audience is those using mobile devices whether that's a laptop, phone or MP3 player (remember those?) and so for most of my testing I used my Samsung Galaxy S7 and HP Envy x360, neither of which are well known for audiophile quality output, and a little testing on my desktop PC with it's Sound Blaster Z sound card which should give the best case scenario.
Using the headset on the go was really enjoyable for listening to tunes through Spotify as well as those stored on the phone, the quality was right up there with any headphones I've used, even with a higher price point which is a testament to the two drivers used. Rather than having a single driver compete with itself to produce the full range of sound, the additional balanced armature driver handles the highs while the Graphene diaphragm of the main driver gives out a great balance of bass and mid tones all without any distortion regardless of the volume. On the comfort side of things, I ended up using a much smaller earbud than I had expected to which still provided great comfort but also stability while on the move – I can't recall any time where I had to remove the earbuds to rest my ears nor did they ever fall out unexpectedly.
Of course, using a wired headset while out and about is going involve not using it, and it's during those periods of being stuffed into a pocket when the tangle fairy visits. The braiding on the cable effectively eliminated the problem of that section of cable being tangled but unfortunately the decision not to braid the upper section and leave it with a somewhat sticky texture destroyed all the good work of the lower braid and was a tangle celebration. I really hope that 1More consider adding the smooth braiding to the whole of the unit in future editions as it really is an oversight of dramatic proportions.
Back to audio quality and still mobile, when taking a call there was no problems with distortion or cutouts and I was able to hear the other party clearly… the same cannot be said of the mic quality, however, which is as bad if not worse than any in-line mic that I've used before. With just a simple pin-hole on the back of the control box, I was constantly having to hold the cable and try to speak into the mic so that the other party was able to hear me at all, let along clearly make out what I was saying. When transferred over to the PC and playing games while chatting on Discord the same problem was evident – the other people in the chat simple couldn't make out what I was saying unless I really powered up my output volume AND they boosted my volume a lot on their side. The end result of all that mic boost was terrible clarity.
Listening to playback on the PC however was pretty great, with rock or heavy metal playing in the background I was able to easily distinguish in-game sounds and dialogue and while working or surfing the net I was able to enjoy a very high level of clarity in a range of music. Watching movies or the Formula 1 was another experience where I would expect a headset of this price range to start to distort if the volume was pushed too high but even at the limit there was no problem discerning dialogue even when the race was in full effect or there were dramatic, explosive scenes (mostly in the movies, though there were a couple of F1 crashes).
1More Dual Driver In-Ear Headphones: The Verdict
What's Hot:
Great audio quality and clarity at all volume ranges
Good balance of bass, mids and highs
Incredibly comfortable, lightweight and earbuds don't fall out
What's Not:
Poor mic quality
Only half the cable is braided leading to tangles
Often priced well above MSRP